TEDˣ Colombo, an annual event that brings together leading thinkers and doers to share ideas that matter over a multitude of disciplines- be it technology, entertainment, design, science, humanities, business, and development- was held on the 28th of October, 2018, at the Nelum Pokuna Mahinda Rajapaksa Theatre. TED created TEDˣ, a programme for local, self- organised events that bring people together to share a TED- like experience (ˣ = independent organised event). This year's theme for TEDˣ Colombo, "I, You, We", revolved around identity and how it can be used as a tool for building empathy, trust, and solidarity within and across cultures, to create synergies through collaboration. Seven speakers where invited to the stage and all gave incredibly thought-provoking, cerebral speeches and were also, on an individual level, remarkable, high achievers in their respective fields of work.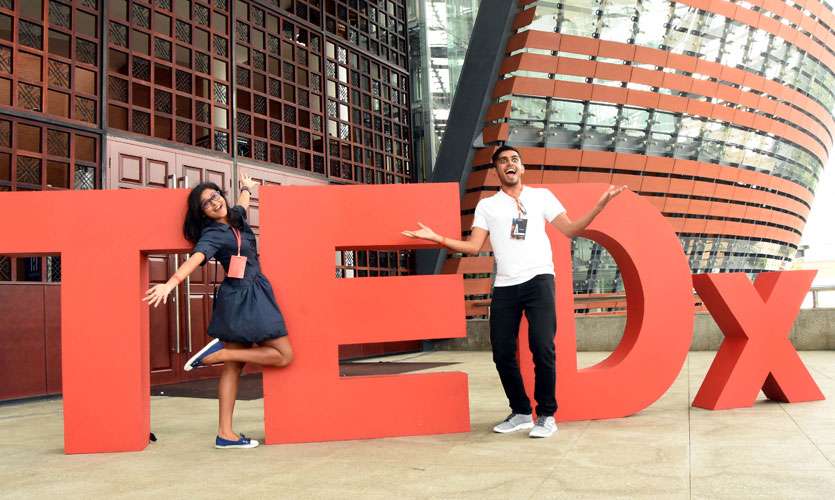 Yudhanjaya Wijeratne was the first speaker of the evening. A multifaceted individual, Yudhanjaya has worked in various fields and is currently a researcher (and author) of the Big Data for Development team of LIRNEasia where he studies new technology to analyse human behaviour at scale, and his work traverses the line between academia and public policy. To describe his talk loosely, Yudhanjaya spoke of the importance of connecting with people dissimilar to oneself as he put forward the idea that coaction can lead to greater learning, informing greater ideas and possibilities. He proposed in his speech that it is natural to flock to groups that are similar in their belief systems but this leads to groupthinking- which is the practice of thinking or making decisions as a group- resulting typically in unchallenged, poor-quality decision-making. In that light, he advocates for people to go against the grain in order to grow.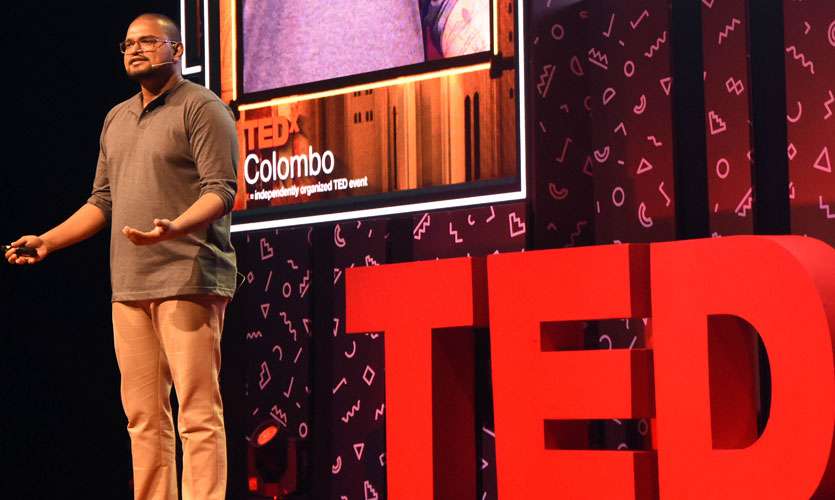 Poornima Jayasighe and Chinkthaka Thenuwara followed with an engaging talk on the concept of producing art through a community. This concept, as described by Poornima and Chinthaka, makes the viewer of art the producer of art through interaction, and the continuation of this art relies solely on the contribution of the viewer. To put it in their words, "art is not a noun but a verb". They took the audience through a virtual tour of their home, which they refer to as a "living work of art" as it is constantly evolving. Through this constantly evolving art project they call their home, they have been able to connect with people through the participation and interaction with their art exhibits, through sharing the space to display other people's art, or through the donation of objects towards making more art, a practice through which intimate stories are shared about the objects, giving the art created using these objects more meaning.
Ashan Perera was up next with his compelling talk on the gap between facilitated and non- facilitated communities, placing an emphasis on the importance of education for capacity building, as a viable link between the two worlds. He spoke of the need to create links in order to share ideas and expertise, and the need to build capacity in order to see these ideas become a reality, and emphasized the role of education in this endeavor. Ashan has always been passionate about serving his community, and found his raison d'être in working with the underprivileged, inspiring programmes concerning the youth and providing humanitarian assistance to those in need.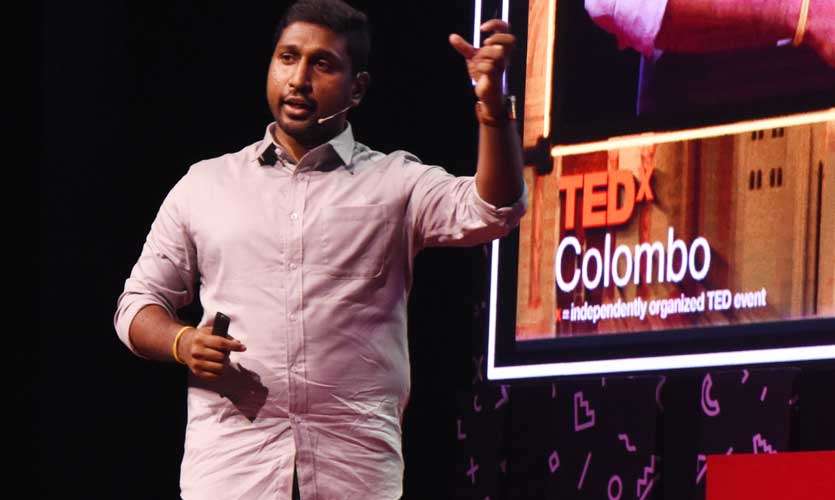 Malinda Pathiraja, a co-founder of Robust architecture Workshop, gave an engrossing talk on the role of architecture in integrating and contributing towards the resolution of social, political, and economic challenges. A sentiment among those who are unfamiliar with the discipline, architecture comes off as being unintegrated and isolated, to a certain degree, from other disciplines. Malinda's idea goes against this sentiment and proves that, if the intent of contributing socially, economically and politically is at the core of any project, architecture can be more than just the process and the product of planning, designing, and constructing buildings, but can further the betterment of communities. Among other impacts and going beyond aesthetic, the buildings designed and constructed can be used as a space to build stronger communities and it could also help build the capacity of those involved in the actual building of the place.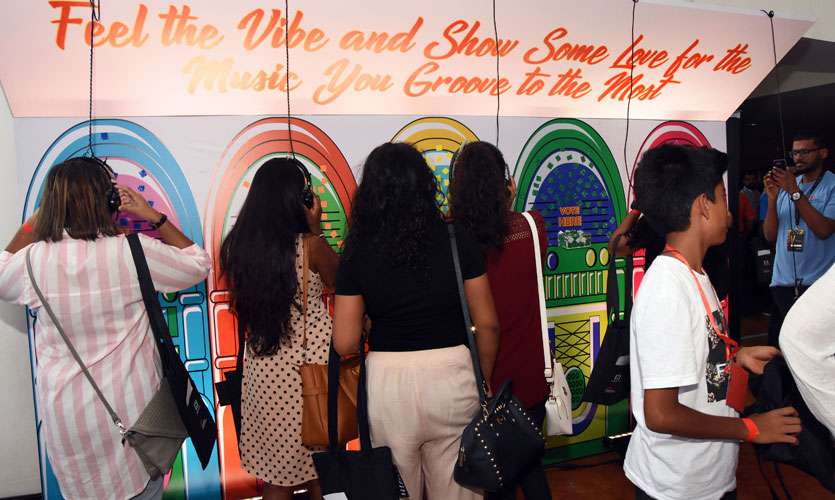 Kulani Abendroth- Dias gave a very deep, analytical talk on how 'hate' is an emotion humans learn and is not an emotion humans are born with and proposed that in the same way, humans can be taught instead to 'accept' in order to rebuild communities by influencing and changing norms that perpetuate and reinforce 'hate'. By using an interesting example, she explained the psychological factors of how individuals reduce cognitive dissonance through moral disengagement that teach humans 'hatred' which then informs inhumane conduct. In the same way, this is learned, she suggested in her speech that this can be unlearnt and in its place, something more positive can be promoted. Kulani is a behavioral scientist by profession with a background in social and political psychology focusing on intergroup contact, moral disengagement, dangerous speech formation, and interventions that can foster negotiations and reconciliation in conflict and post-conflict societies.
Last, but not least, was Eduardo Pena's talk on his work as a concept artist and what inspires him and his creative process, and how he transports the viewer of his work to extraordinary 'worlds' he sees in the ordinary. He attributes his capability of taking the ordinary and turning it into the extraordinary to the retention of his childhood perspectives of the world and life in general. Eduardo, currently based in Singapore, has worked in the entertainment industry for over a decade, working with many production companies and contributed to a multitude of blockbusters such as 'Hercules', 'Trilogy of the Hobbit' and 'Lucy'. Besides working in the entertainment industry, he has also participated in collaborative projects in Urban Development, Design Sustainability and Education.
Stringendo, a band, made an appearance on stage and performed a collection of songs ranging from classical music to pop, a collaboration of genres, which the crowd enjoyed. We'd also like to mention that audience members received a 100% upcycled and very handy goodie bags, made by the team at Simply Women. TEDˣ Colombo, 2018 offered its audience an array of interesting perspectives and takes on the overarching theme, and it was, overall, a thought-provoking, intellectual discussion-inducing event and we look forward to the next one.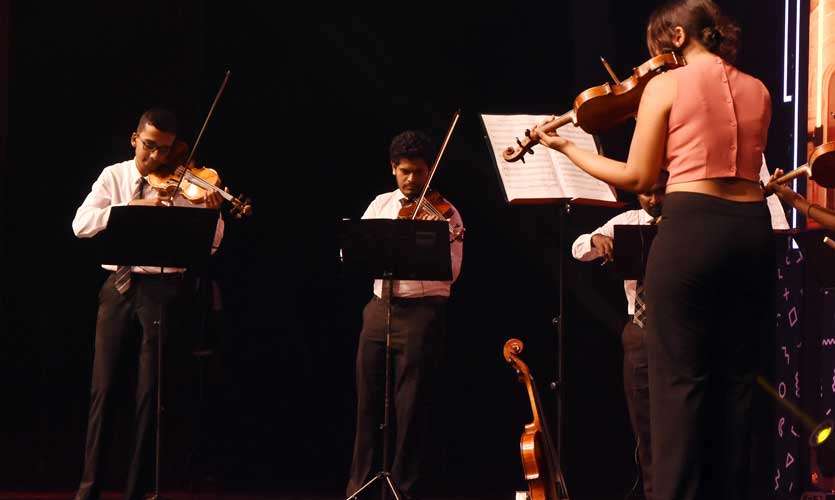 pics by: Nimalsiri Edirisinghe