Double Cheese is one of those spots that has gained an almost cult like following thanks to word of mouth reviews from satisfied diners. We dropped by recently to see if it lived up to its hype, and we're happy to report that it certainly did. And more!
Ambience
The interior at the restaurant was simple - booth style seating, a smattering of tables and workstations for those of you who want to grab a bite while working. The restaurant was crowded when we walked in, and a large group were celebrating a birthday, yet we were promptly attended to. The two gentlemen who welcomed us with warm smiles showed us to a table and began to explain the menu.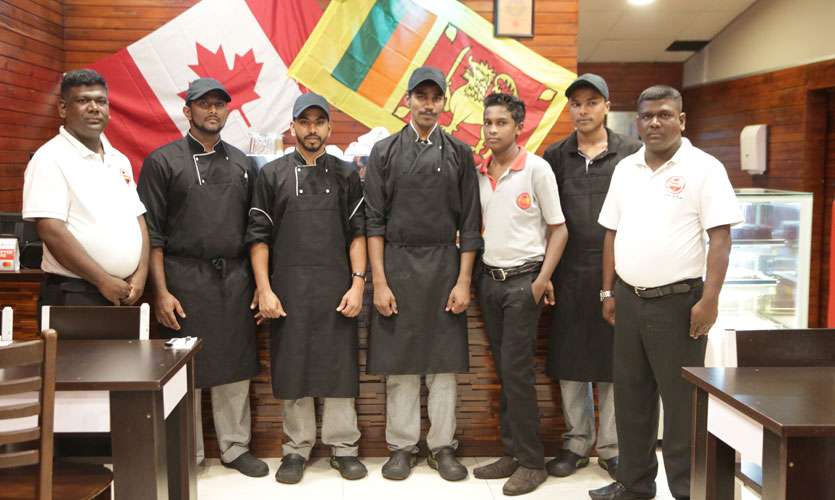 Although they have quite a good variety of beverage choices here, we tried their Lemongrass Ginger Iced Tea (Rs. 300), since we wanted something that would be light. We loved that both the lemongrass and ginger flavours were equally prominent, with the tea bringing the flavours together quite beautifully. However, a minor gripe we had was that the iced tea was too sweet, and ran the risk of subduing the flavours. That aside, the iced tea would have been pretty darn good.
Food
The food was what we were most excited about, since that's what people raved about to us. We decided to start our meal with a good old Sri Lankan favourite - the Hot Butter Cuttlefish (Rs. 700). It was love at first bite and we definitely think their HBC is one of the top contenders in town. The cuttlefish was perfectly fried, and wasn't dripping in batter. The capsicums and the spring onions added additional textural vibrancy to the dish.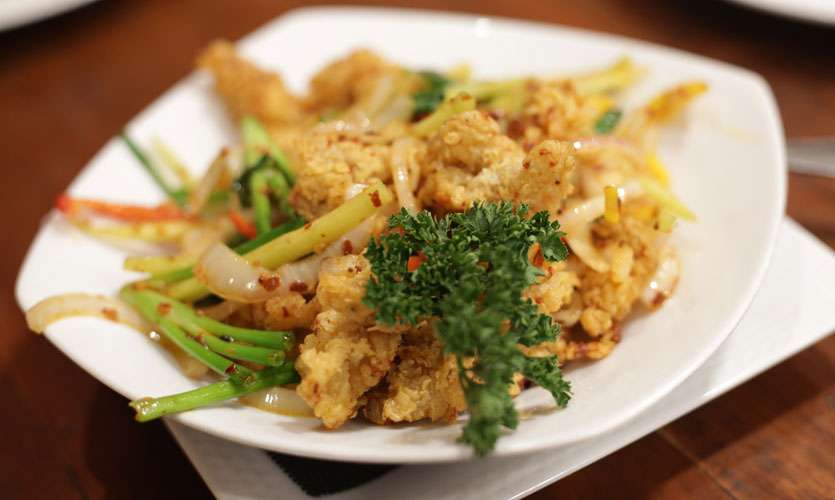 The Beef Cheese Kottu (Rs. 600) also came highly recommended, so we decided to try it out. Unlike most places, the cheese used in the dishes here is mozzarella, which we thought was pretty interesting. When the dish arrived, it was clear it was meant for two. The koththu itself was fabulous. Only two dishes in and Double Cheese was already getting double approvals from us! The koththu was so good that you will soon believe you can devour it by yourself, but you would eventually be proven wrong. We also tried the Chicken Cheese Macaroni (Rs. 700), and its preparation was quite a pleasant surprise. We expected a typical Mac 'n Cheese, but what we got was Mongolian style macaroni with plenty of chicken and cheese. If that sounds like a complaint, it isn't. Like the Hot Butter Cuttlefish and Beef Cheese Koththu, the Macaroni completely wowed us.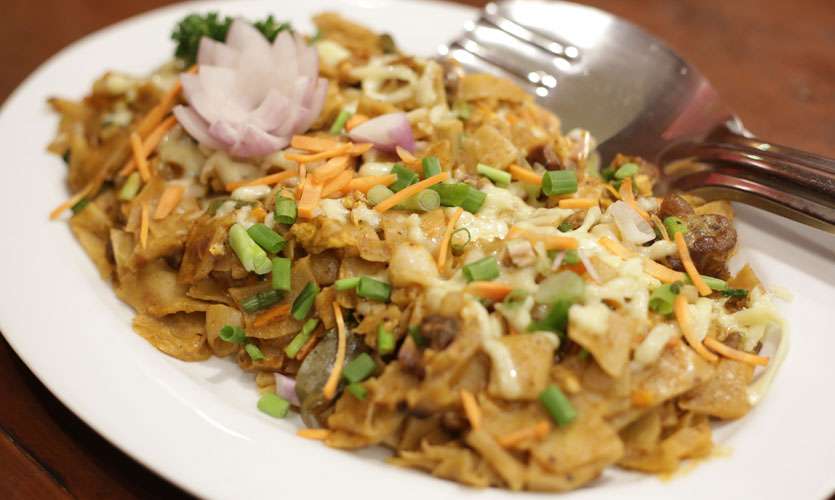 The Chicken Cheese Burger (Rs. 420), was another item that came recommended. This also lived up to its hype. We were told that the patty was freshly made, and the bun also comprised caramelized onions, which definitely added to the taste.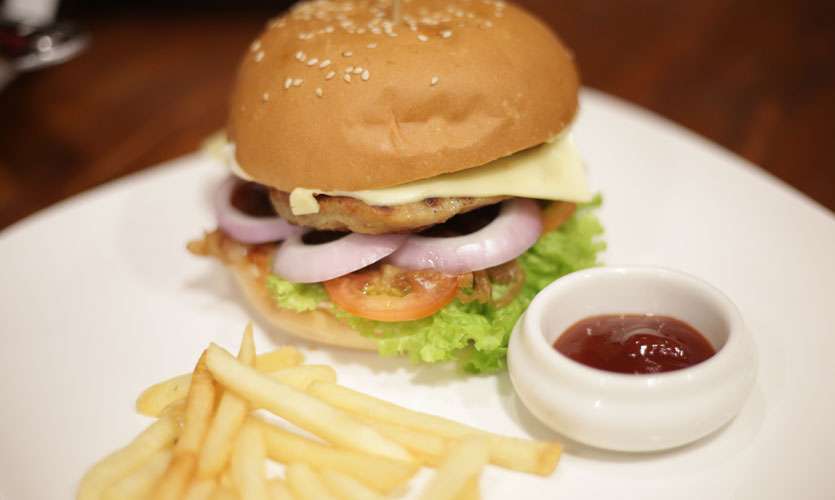 Dessert
The desserts available here are the only items that are not made in house, and are ordered fresh everyday. The Death by Chocolate (Rs. 450), was rich and yummy. It was also surprisingly moist although we ordered it early and left it out in the air conditioned room for quite a long while. Although it wasn't what we'd call the best Death by Chocolate in town, it was certainly decent.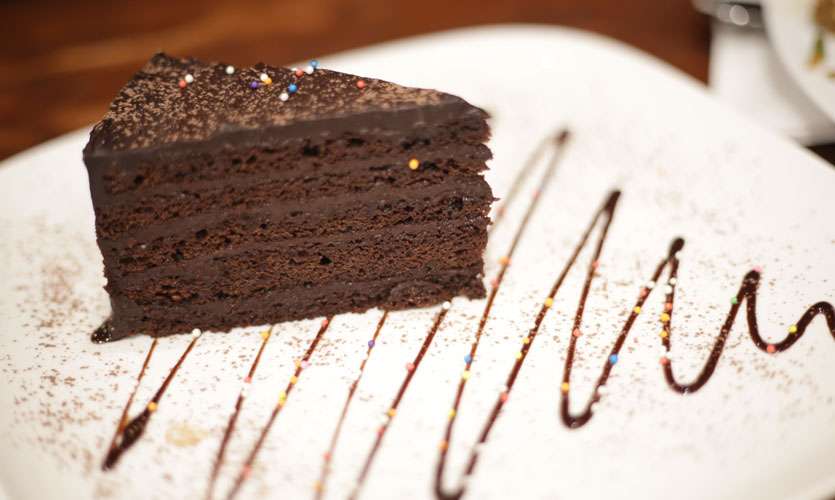 Service
If you drop by here you will most probably be welcomed by the twin brothers who manage Double Cheese. They are friendly and courteous and will help you pick from the menu if you're confused.

We absolutely love the food here! The quantities are hearty, and can be easily shared among two people, so value for money is great. Moreover, the owners are absolutely lovely people and are very helpful. We also found out that the two brothers managing Double Cheese are actually twins! Which is why the term "double" has many connotations - the twins, the twofold quantity and the Sri Lankan - Canadian aspects (the 3 brothers all worked in Canada for a while, and one of them still resides there). All food is freshly prepared here, which is why they have a 20 minute wait time for the food. You can even call ahead and place your order if you're really hungry and don't want to wait. The restaurant also has this concept that allows you to order food to be "gifted" to others. They will see that the food is delivered (and they do actually deliver quite far and wide!!) and you can pay them later either at the restaurant, or you can request for someone to pick up your payment from a location of your choice. We definitely look forward to going back and trying out more of their food!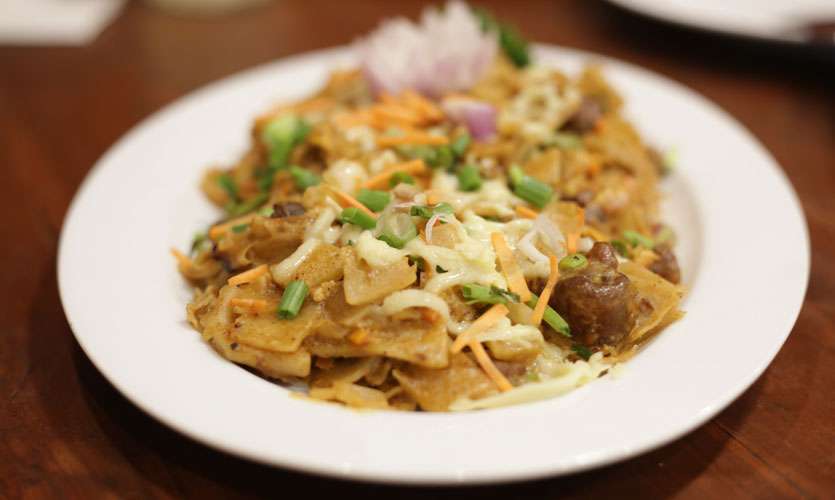 What we recommend: We happily recommend all the food we had here!
Author's Notes
The food here contains no MSG, no preservatives. The food is also certified halal. All prices mentioned above are all inclusive.
Parking Facilities: Parking on premises
Pics: Dasun Muthugala