Thailand's infamous Tiger Temple exposed
The Wat Pha Luang Ta Bua Tiger Temple, a Buddhist monastry and popular tourist destination in Thailand has finally been exposed for the horrendous tourist attraction it has always been. Over the years, opinion has been divided with some arguing that the temple was doing a great service in the preservation of tigers which were in danger of being extinct while others had always maintained that this place was a tourist attraction keen to milk tourists in exchange for a photo with the majestic beasts. During my visit to this infamous place locals and foreign tourists had come in their busloads to visit the Tiger Temple. After queuing for what seemed like an eon we were given a small pep talk about do's and don't and then taken to an enclosure where the tigers were either sleeping or staring vacantly into space. They looked stoned! They were lifeless and listless, they had no energy and no sparkle at all. Some of them were chained. Volunteers were everywhere and those that were slightly nervous were held by their hands and led to the dazed animal while photos were taken. Every so often I noticed the volunteers whip out a bottle of liquid and feed it to the cats. Was this some kind of drug to make them calm and docile? While walking through the compound we saw a young volunteer bring out a tiger cub who was bounding about full of energy. Soon a small group stopped to pet the cub and immediately out came the a bottle of liquid which was fed to the tiger. Within five minutes the tiger was drowsy and just fell the ground. The boundless energy he had moments ago had simply evaporated into thin air. After seeing this incident I was more than convinced that this place was far more sinister that I had originally thought.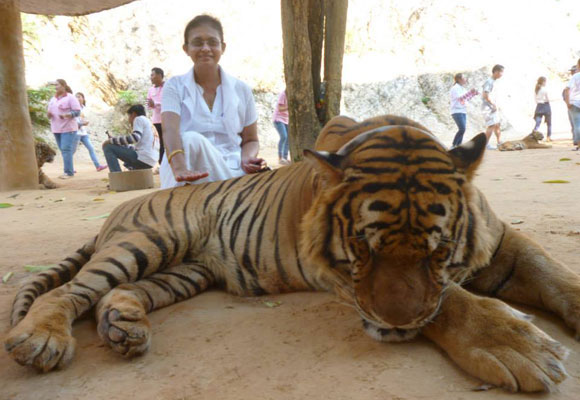 Therefore it came as no surprise when the world's media broke the story that monks at the controversial temple have been accused of illegally breeding tigers and animal trafficking. In 2015 a raid had revealed jackals, hornbills and Asian bears kept at the sanctuary sans the necessary permits. Despite being banned from charging admission fees or money the temple continued to do so until it was shut down.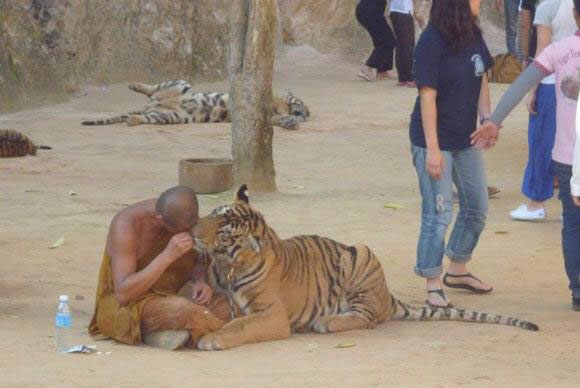 During the latest raid officials from the Department of National Parks, Wildlife and Plant Conservation had found a copy of a document that may link the Tiger Temple to wildlife trafficking. They had seized the photocopy of a contract involving an exchange of breeding tigers which was signed by the abbot of the Tiger Temple and some people in Laos. Officials opined that the contract indicated the temple may have been involved in the illegal wildlife trade.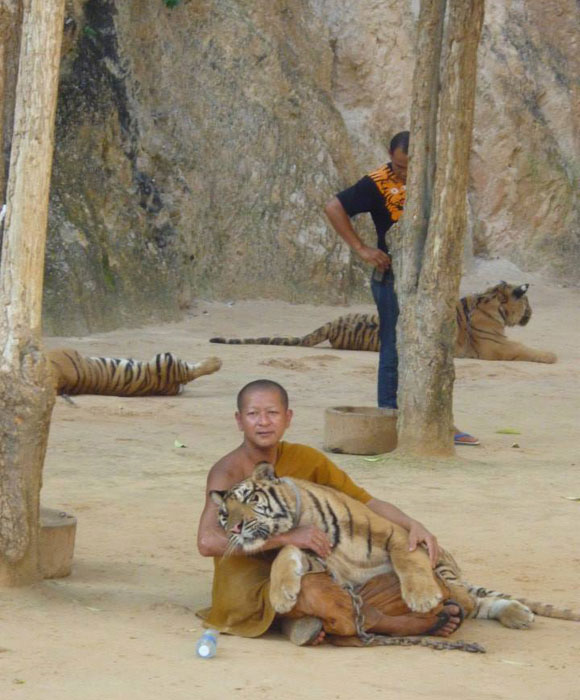 "When we visited it, I told my family that it will soon be closed down and might as well experience it before that happens. The female Thai tour guide did not come inside with us, as she was upset and was opposed to it, and only obliged because we wanted to go. Tigers being abused in chains in a Thai Buddhist temple is no different to elephants being abused in chains in Sri Lankan Buddhist temples. There is no Buddhism in these temples, just commercial enterprise to retain and enhance market share," said Dushy Ranatunga who had visited the park.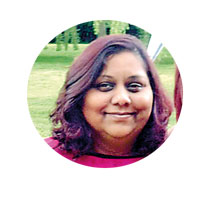 Text and photographs by Tina Edward Gunawardhana