Today on the Buzz!!!! I feature a young , talented writer, who I met just two weeks back at FGLF. He is not only an award winning writer, he is also super loved by his wife, and what really inspired me to feature him is the LOVE they share and of course the fact that he is a great talent to read about.
In 2010 he began writing his first novel – Tristan's Conquest: Knights of Olympus, based on a series of loosely connected nightmares, and the promise of a great tale. It started off as a short story, and then evolved into a four part novel, the beginning of a fantasy trilogy. In 2015 he won the State Literary Award for the Best Novel in English for his debut book.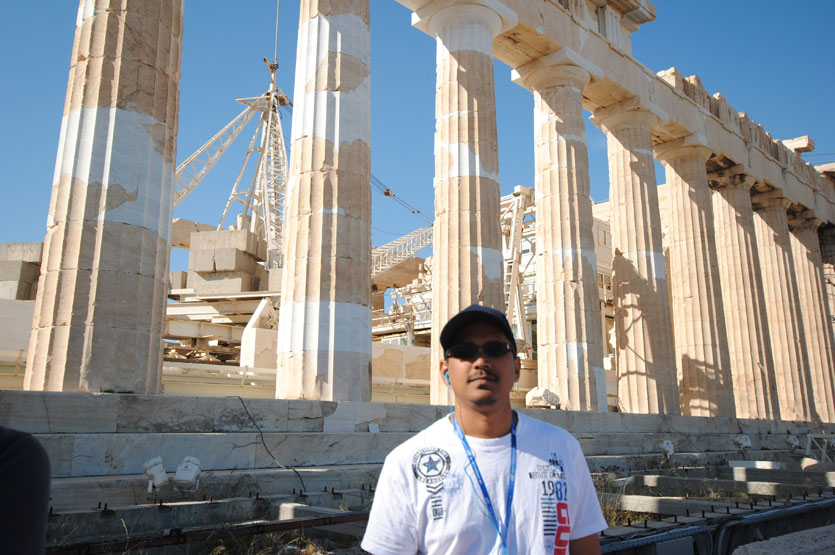 Today he shares his amazing story on the Buzz!
Full Name: The author A.R. Jayatilaka is also known as 'Ashan Jayatilaka', 'AJ' to work colleagues and 'Harry' to school friends who still remember the fascination I had with the Potter universe.
Hometown: Colombo
Status: As in marital? Married!
Birthday: October 12
Passions: Storytelling of course. Travelling the world, especially ancient mythological and medieval sites. Tripping with family, mainly to places where there are big, fast waves and boogie boards.
Favourite Colour: Red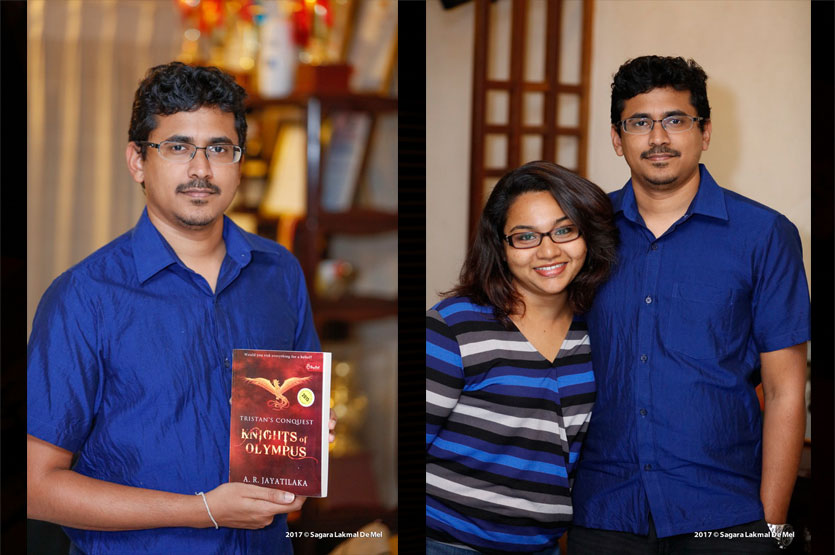 What made you become a writer?
I guess I was something of a storyteller from the start. A potion of upbringing, experience and nightmares has led to me actually being published.
I wrote my first finished short story just after leaving school. It was a rather tragic story of unrequited love involving a surgeon and a patient, whom you find out is married to someone else right at the end. It found its way into a magazine, but it scarred me and I never wrote a love story again.
Then there were the fairly vivid and cinematic nightmares. I started to keep a pen and paper close by, and recorded them all like a mad scientist as I woke up – I still do today, much to the bewilderment of the wife. Nightmares are goldmines.
That's how Tristan's Conquest began in 2009 – a loose plot scribbled over pages of nightmare-notes. Since then, I worked, lived, lost and loved for four years, all of which continued to shape the book.
Before the nightmares, just like Tristan, the love of writing had to do with choice, perhaps a series of choices made by me (and sometimes by others for me) during my childhood.
The decision made by my parents in 1987 to expose me to an international school immediately narrowed down the list of possible destinies. Fifteen years of access to strange, peculiar kids, a few wonderful lifelong friends, and an array of teachers with varying levels of awesomeness. Perched at the very top of this array was our final year History teacher from Newcastle. That History teacher was a damn good teacher – stories of Germany, Gandhi and everything in-between sprung to life. History became one of my favourite subjects. He also referred to his ailing grandmother as 'Yoda'. Our beautiful, artistically designed library transformed into a place for the thoughts in my head to free themselves - a peaceful centre of inspiration for a brooding teenage boy with an aversion to the outside world. And so the syringe delved into the middle of the cranium and thoughts came out, 'raw materials' for a writer.
Experiences make you grow up. I observed bullying. I saw sheer intolerance displayed towards people just because they were different. I've seen racism spew out of underage youngsters who simply parroted what their parents said around the dinner table. There are real issues out there and it's important to me that the youth are aware of their role in doing the right thing and the consequences of the choices they make. As I began to truly understand the world around me my feelings about this began to invade my writing.
Work experience after school began at a fast food restaurant where I almost puked handling fries in hot oil. Then I started editing videos together at a TV studio. What I really wanted to do was write. In 2006 I joined the private sector, began my career in Communications, and it suddenly started to make sense.
The happy truth behind all of this? Simply, I found out that the medium of writing, including sarky poetry, insulting song parodies, ranting blog entries and charting the course of Tristan's numerous conquests, helps.
Who has been your biggest support in making this a reality?
It's rarely ever one person.
The faith that Ameena Hussein – my publisher - had in Tristan's story meant that a previously unseen brand of fantasy fiction was given a chance.
The support and encouragement of a couple of close friends (who had no idea that they would become beta-readers and suffer through multiple manuscripts) helped turn the initial short story of Knights of Olympus into a 330 page, 130,000+ word fantasy fiction novel and the first of the Tristan's Conquest trilogy.
My mother instilled in me the confidence and the inspiration to go on, and gave Tristan, as she did me, the best gift of all – the ability to choose between what is easy and what is right. My father took it upon himself to read an entire manuscript of a genre he did not read, and correct passages on creatures and enchantments he did not understand.
My wife to this day has been the best source of encouragement one could ask for. Her love was the foundation that built Olympus.
But the support doesn't stop there. Every time a reader shares feedback and good vibes, it is a reminder of the fact that you are a writer. And so the reality of being a writer is always reinforced by the reader.
But make no mistake – you really have to rely on your own grit, perseverance and patience first. There is no other way to say it.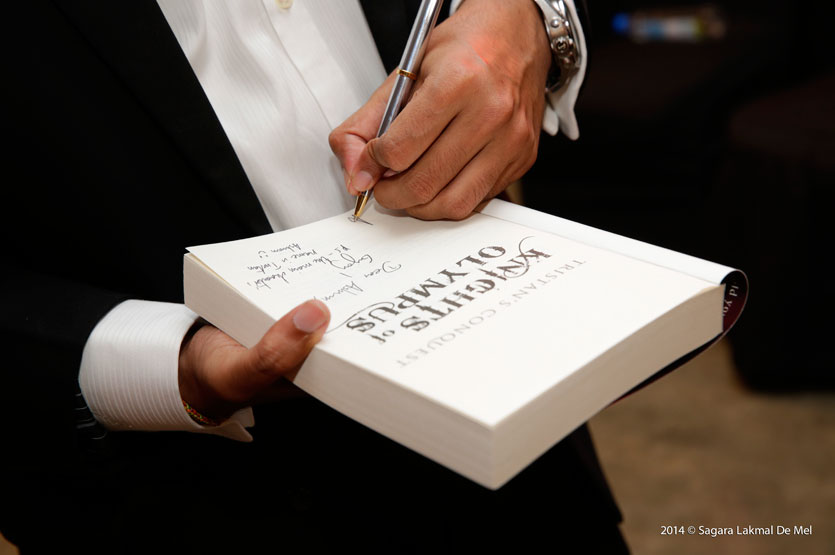 What have you planned for the year?
I'm expecting the launch of the sequel around mid-year and the Second (Extended) illustrated edition of Knights of Olympus – in ebook format. Optimistic by any standards.
How is married life treating you?
Great. The one complaint I'm getting is that I'm not writing stories for her anymore. Before we were married, one of the short stories I enjoyed writing immensely was inspired by her, called the House on the Hill. It was a tale of two characters living off the land in complete contentment, away from the daily horrors. No magic – but a fantasy nevertheless. Of course, life didn't turn out that way. But two people against the world is better than one.
And food-wise, married life is a total win.
What was one of your most defining moments in life?
The defining moment is when you realise what your beliefs and values are, whether you will stick by them and what kind of choice you will make – which dictates what kind of person you become.
I've rarely asked anyone to help me make decisions.
On one occasion many years ago when I had to make a very hard decision, a simple question flashed into my mind. Since then, when in doubt I've always asked myself the same question: what would my mother think of me? And thus she has, quite unknowingly, shaped my life.
Even the decision I made to use the written word to express myself came about because my mother wouldn't have liked the alternatives!
Tell me about your winning moment with your book.
I had planned to print stickers and paste them on copies of my books. I had already discussed it with my wife. It would say "Nominated for State Literary Award". And then when the compere said, "Best Novel in English goes to - Knights of Olympus by A.R.Jayatilaka" I looked at my wife who was next to me and said, "We'll have to change the damn sticker text, no?".
What does a "day of writing" look like?
Sometimes it is difficult for people who do not write – as in really, write - to grasp that you still have to sit down in peace and research, plan, and write books. Apparently people believe that words just come like the tide. It is therefore my first priority to schedule and wholeheartedly defend the hours I've committed to writing.
A day of writing might not include pure writing from start to finish. It would include some character development and sketching out scenarios on an exercise book, online research, and fleshing out a chapter.
I heard your wife is your manager, is it only for your writing?
My wife is like my PR manager and also manages VISA applications, form filling and daily nutrition. Everything else including the sanity of both individuals is generally driven by me. This has proved successful.
Are you working on any new projects?
For now, I am completely focused on finishing the Tristan's Conquest trilogy.
On the Spot?
What were your thoughts on FGLF for 2017?
Although I couldn't catch all of it, what I did experience was fantastic. I think it improves year by year and I was happy to attend as a fan for the fourth time.
What do you think of the exposure our Sri Lankan writers get?
Pretty horrible. I'd love for Sri Lankan writers to get more exposure. Whereas international authors are already quite famous by the time the books come to our shores, Sri Lankan writers need all the help they can get. It's great that FGLF and the A&K Lit Fest exist. I've been to a couple of local Comic Con events too, platforms that bring readers and authors together –fantasy and sci-fi mostly. Still, all of this is few and far between, and aside from a handful of writers who've made it big, there's a vast reservoir of talent that no one knows about.
Who is your all time favourite Sri Lankan author?
The names rarely stay with me. There is no one particular author, but I have enjoyed Cause Untrue which was probably my first foray into Sri Lankan stories. Sacred Tears and Mythil's Secret are others that come to mind.
This year, FGLF featured Sinhala writers. What are your thoughts on this?
Language is just a means of communication. It is frustrating that it sometimes gets in the way of real talent coming to the forefront. It's important that talented writers of any language are recognized. In predominantly English platforms like FGLF, this move is a great sign. Likewise, predominantly Sinhala and Tamil platforms should also give English writing the respect and attention that it deserves, and may serve to widen minds and experiences.