Up till recently the sari was the main feature with the blouse only playing a supporting act. But the once humble blouse, is being thrust into the spotlight by many Indian designers, and this was most evident on a recent trip to Mumbai post Lakme Fashion Week. It's interesting to see how the blouse is turning into the protagonist and the sari, easy on embellishment, is taking on a sedate form. As most trends in the sari world stem from India, it's interesting to see what designers there are looking to for inspiration.
Designers seem to be focusing on a new market, one that brands in every field are trying to speak to and understand, the millenials, the whimsical, unpredictable millennial, a key consumer with an escalating buying power. The young market is also perceiving fashion beyond its materialistic quality, and embracing it in a cerebral and emotional way as a lifestyle. Contemporary fashion has smoothened its rigid structure and ushered in an era of acceptance and inclusiveness. We're also looking at a generation that wears billowing sleeves and floor grazing hemlines, where sex appeal lies more in ambiguity and less in the obvious.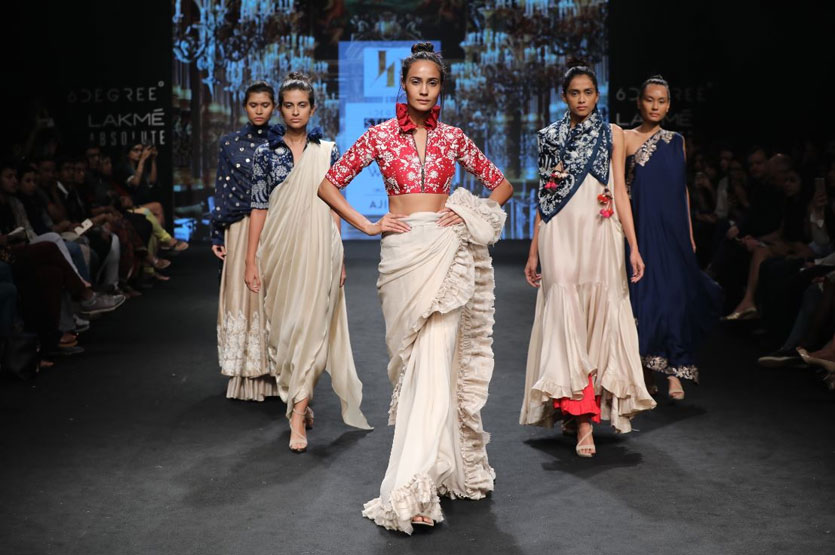 The Crop
There's no stopping this fashion staple. Fashion-forward women are incorporating this cropped style in their closets. Whether it's Anita Dongre, Sabyasachi or Sanjay Garg, there isn't a single Indian designer who doesn't love the crop! It helps that it's easy to pair with lehengas, saris and palazzos alike.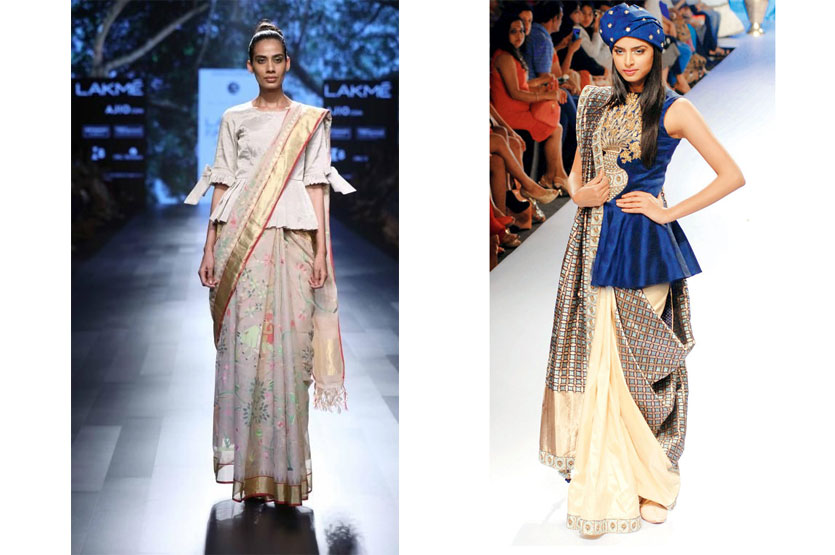 The Peplum
The peplum was originally introduced into Western clothing as an overskirt to give the waist a cinched look wear. It's used to add some flair to an everyday look. We're living in the Internet age where popular culture is highly influential and fashion thrives on the ideal of unconventionalism. Designers from Anita Dongre and Monisha Jaising to Shantanu & Nikhil are incorporating flirty peplum jacket blouses and simple peplum top blouses to their lehengas and saris for a polished update.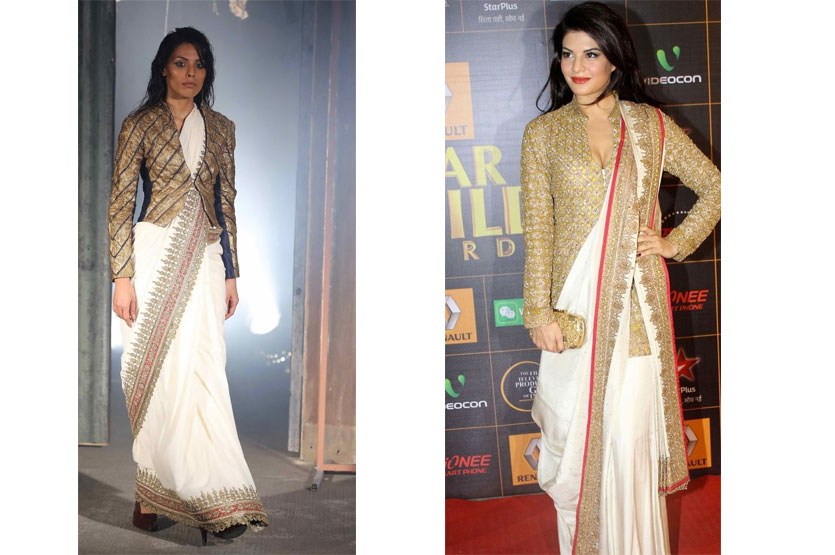 The Athleisure and Jacket
Several designers are creating prêt saris and blouses that the wearer can simply step into. The athleisure trend has seeped into Indian wear where we can observe athletic ribbed necklines and diaphanous sweatshirt sleeves and the structured jacket blouse. These work well with the sari and are an excellent workwear addition. Make it trendy with bomber jacket designers loving the jacket blouse, and these include Anushree Reddy, Monisha Jaising, Rahul Mishra and Payal Khandwala.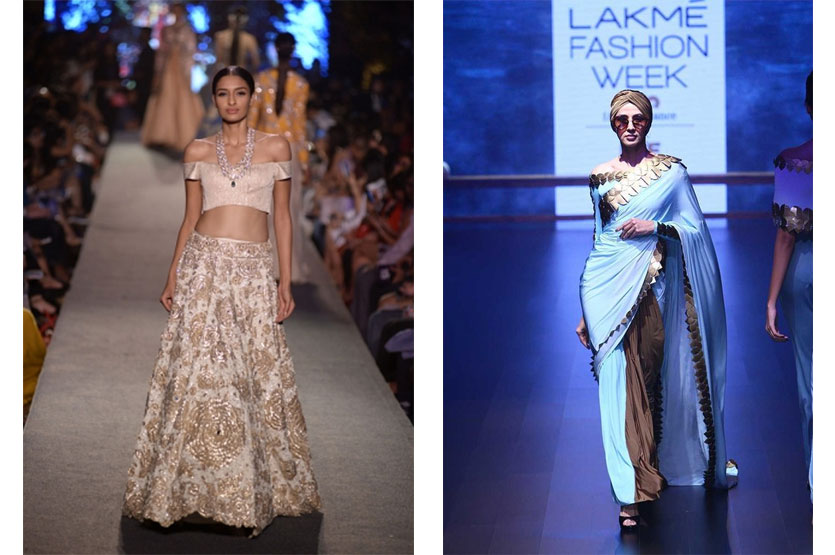 The Bare Shoulder
Recent sightings on the runway displayed the sari sans a classic blouse. Instead it was coupled with pussy-bow shirts, and Victorian collared cropped tops as seen at Jayanti Reddy, as well as deconstructed shirts, sheer off-shoulder blouse, off shoulder bandeau and cold shouldered shirt blouses are also catering to a highly conscious consumer who believes in reusability and extending the longevity of a garment, one who wants to cultivate a personal style without spending blindly. It's time to add a dose of sultry appeal to your ethnic closet. Designers giving the trend a nod include everyone from Manish Malhotra, Tarun Tahiliani and Anamika Khanna to Sabyasachi and Payal Singhal.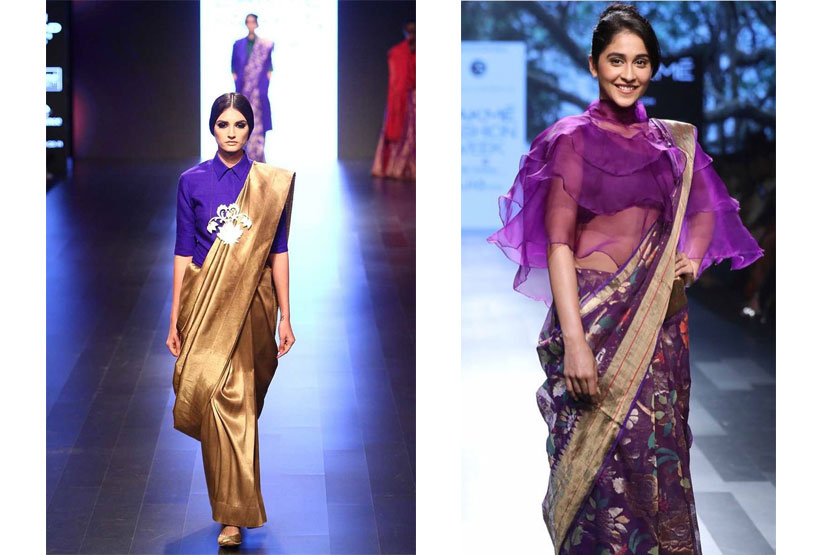 Androgyny - The Structured Shirt
Gender fluidity is not just a buzzword in new age fashion; it has cast a wide net in a spectrum of areas, from model castings on international and domestic runways, to the liberation of tags amongst the youth. Designer Payal Khandwala is no newcomer to this concept; over the past few seasons she has shown varied interpretations of the austere man's shirt under the sari in asymmetrical shapes and lustrous fabrics. The shirt blouse is being increasingly favoured for the smart yet utterly comfortable repertoire they promise.
At the peak of its glamorous avatar, under the influence of Bollywood cinema, the blouse took on an erotic form resembling modern day corsetiere with low backs and dipping necklines. The renewed iteration is relaxed and one that conceals the obvious erogenous zones. It's audience are also looking at silhouettes that are more forgiving, to create accessibility in design.
"The fact that most people do not have a model's form and shape, means that by necessity we are reverting to more modest silhouettes as these are more marketable and appeal to a wider audience." - Rta Kapur Chishti, author of Saris of India: Tradition and Beyond.