Professors Nimal and Savitri Gunatilleke, Professors Emeriti of the University of Peradeniya, are no strangers in the spheres of Botany, having contributed immensely to the field over the course of many years. The duo has been celebrated and feted for their contributions not only by numerous local bodies but also by UNESCO, receiving the Sultan Qaboos Prize for Environmental Preservation. More recently, they received the honour of having an orchid newly discovered in the Sinharaja forest named after them. The Daily Mirror Life recently caught up with the Professors who talked about their lives, achievements, and the honors they've been bestowed with.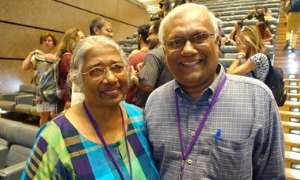 WHAT WAS YOUR LIFE LIKE, GROWING UP?
Professor Savitri Gunatilleke (SG): I was born in Bandarawela, Sri Lanka. I am the eldest of 6 girls. I received my primary education at Little Flower Convent, Bandarawela, from 1949 to 1953. From 1954 to 1964, I studied at St. Bridget's Convent in Colombo. Professor
Nimal Gunatilleke (NG): I grew up in a village setting which in fact, is located at the western-most end of the former Sinharaja Adawiya. I first went to a school in my home village in Bulathsinghala and then to Dharmapala Vidyalaya, Pannipitiya, and finally to Ananda College, Colombo for O/L and A/ Ls. Graduated from the University of Ceylon in 1969 and obtained a Ph. D. from the University of Cambridge, UK. Nothing very eventful!
Q WHY DID YOU CHOOSE THIS CAREER PATH? WHAT ABOUT IT DREW YOU TO IT?
SG: I was trained as a forest ecologist.
NG: I was trained as a microbial geneticist at Cambridge and as such, my initial research had been very much laboratory-based. Since marriage, I had no option but to chaperone my newly wedded wife to different vegetation types in Sri Lanka during her teaching and research in forest ecology. It is this rather fortuitous happenstance that more or less compelled me to retool myself in forest biology which I enjoyed very much and hooked on to, ever since, with no turning back. Looking back, I am happy that I chose this career path as a forest biologist while at the same time applying the knowledge I gained in microbiology and genetics along with newly acquired knowledge in conservation and restoration biology. Moving from an 'in-door laboratory' in a developing country university to one of the best 'out-door laboratories' in the world virtually at our doorstep in our rainforests for research was reassured by an appeal made by a leading tropical biologist Prof. Daniel Jansen from Princeton University, USA in the preface of his book titled ' Ecology of Plants in the Tropics', which goes like this: 'I appeal to you young biologists from the tropics. Shed your lab coats and your 20,000 GBP centrifuges and go to the tropical forests and enjoy their marvels'. I felt vindicated, very much. Moreover, working together in the field made our vocation a hobby.
Q WHAT IS YOUR PARTICULAR AREA OF INTEREST?
SG: Natural Forest ecology, which includes, species distributions across terrains, and elevational ranges; pollination studies of selected canopy dominant trees like the Beraliya and Thiniya, Hal trees, non-timber forest species of utility value to villagers (Weniwelgeta, Kitul, wild enasal); natural forest species restoration in degraded areas, like abandoned land, Kekilla land.etc.
NG: Forest Soil biology, the reproductive biology of forest plant species of economic value, Forest Restoration biology. I have built upon my early research in comparing the soil biological properties of natural forests with differently degraded areas such as fernlands, logged-over forests, and Pinus plantations and using this knowledge to restore degraded forests using ecological principles.
Q WHAT PROJECTS HAVE YOU BEEN INVOLVED IN?
NG: I have been involved in many projects almost all of them jointly with my wife and several other colleagues from local as well as overseas universities. The earliest ones to study the tree flora of Sinharaja and several other forests, next, flowering and fruiting biology of several utility plants (timber, medicinal and spice), then, long-term forest dynamics in Sinharaja, lately, restoration of degraded forests and pine plantations with native species.
Q A RARE NEW ORCHID - GASTRODIA GUNATILLEKEORUM - HAS BEEN NAMED IN YOUR HONOUR. TELL US ABOUT IT?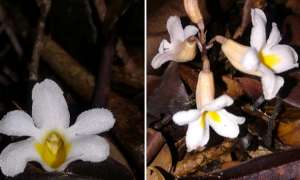 Photo credit Bandara Priyankara
NG: It is a student of ours who was resampling some forest plots in 2018 -2019 which we both established in 1979-1981 period to study long-term forest dynamics in Sinharaja forest, who first encountered this orchid in some of these plots. He, together with his field research team had decided on their own to name this orchid they newly discovered in honoring the two of us in appreciation of (according to them !) teaching and research that we have contributed to over several decades in forest ecology of Sri Lanka. This orchid is somewhat unusual as it is characterized by having an underground fleshy tuber or coralloid rhizome (hence called potato orchid) and lacking functional leaves. It obtains all its nourishment from decomposing forest litter and the forest soil beneath. The presence of species like this is an indicator of the good health of the forest.
Q YOU HAVE WON MANY PRESTIGIOUS AWARDS. TELL US ABOUT THEM.
SG: My commitment to education, research and conservation has been recognized multiple times: two among them are: 'as a co-recipient of the prestigious UNESCO Sultan Qaboos Prize for Environmental Preservation' in 1997 and 'The Association for Tropical Biology and Conservation Honorary Fellows Award' in 2014, for distinguished service to tropical biology, and being an inspiration and role model for younger scientists and students.
Q WHO INSPIRED YOU? WAS THERE A PIONEER IN THE FIELD WHO YOU WERE INSPIRED BY?
SG: My inspiration came first, from my father. I also vividly recall the morning I left Sri Lanka for my postgraduate studies. My father and other family members saw me off at the airport, and just before I enplaned, my father said: "Savi, do your studies and research well in Aberdeen, work hard and make sure that you complete your Ph.D. within the stipulated time period and return to Sri Lanka to serve your motherland". It was also Prof. Peter Ashton, my Ph.D. Supervisor, who saw me off at the Aberdeen airport when I was returning to Sri Lanka for my field studies in Sri Lanka's forests. The request he made seeing me off was "Savi, remember that you are my first Ph.D. research student going overseas for your fieldwork, so if you are not a success, Aberdeen University will never allow future students to enroll in Aberdeen University to do their fieldwork overseas!!". So I had to make sure that I accomplished my field studies successfully and graduated successfully. Last but not least, it was my husband Prof. Nimal Gunatilleke's encouragement, support, and collaboration throughout that gave me the courage to shoulder the responsibilities of taking students to the field and organizing their field studies.
NG: We both were inspired by Prof. Peter Ashton.
Q WHAT DO YOU THINK IS YOUR GREATEST ACHIEVEMENT TO DATE?
SG: When I was an undergraduate, the course in Plant Ecology did not include field visits to Sri Lanka's different forest types and other ecosystems. Despite its small size (432 km x 224 km), the country has a rich diversity of ecosystems, ranging from, marine (3), coastal (7) including salt marshes to sand-dunes, inland aquatic ecosystems (8), natural forest ecosystems (8) and grassland ecosystems (7), altogether together totaling as many as 33! Therefore, it was important that field studies be included in the ecology course. With Late Prof. M. D. Dassnayake's support, we were able to convince the Vice-Chancellor at the time to allocate funds for field studies at least to the major forest types, as these are outdoor laboratories.
NG: Difficult to select. From a national perspective rather than a personal point of view, I feel that the critical reviews I made on the FINNIDA funded 'Forestry Sector Master Plan for Sri Lanka' strengthened the case to withdraw this Master Plan and to develop a conservation-oriented Forestry Sector Master Plan in 1996. There are a number of such achievements that we both were part of.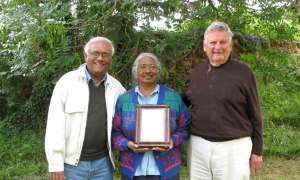 Q HOW WOULD YOU LIKE TO BE REMEMBERED?
SG: In 2012, The Institute of Biology, Sri Lanka felicitated me for my contributions towards conservation of Sri Lanka's natural forests, and for the advancement and dissemination of Science in Sri Lanka. I would like to be remembered by what they recognized in me. They said: "Ordinary teachers direct us along the right path, good teachers impart good education, but great teachers groom their students to become leaders and inspire us to seek our own path. They encourage us to discover our talents. Madam, you use yourself as a bridge over which you invited the students to cross, then having facilitated their crossing, joyfully encourage them to create bridges of their own. That's why we are here. I am very much grateful therefore for the opportunity to be here today to deliver the felicitation address for Prof. Gunatilleke, who was a guiding star for us to reach success in our careers. Dear Madam, may you have happiness throughout your life, seeing all your students become fountainheads of success".
NG: I would like to be remembered as a Sri Lankan who has made some contributions towards the conservation and restoration of natural heritage and associated cultural heritage of Sri Lanka.