Situated along the sunny coast of Beruwala Sri Lanka, Cinnamon Bey is a getaway to paradise. Boasting as many as 7, top, not room service and exceptional bars, Cinnamon bey has a location within the hotel to suit your every mood. It even includes an open-air sushi bar, not one but two outdoor pools, a gym and a spa!
We were invited over to experience "ROCK SALT" which was the first restaurant to allow those who dared to enter its doors, the opportunity to experience hot lava cuisine, and also become their own chef. The restaurant is a 30 seater and you can dine there via reservation only. It's a fine dining experience mixed with adventure and excitement.
Ambience
ROCK SALT is open to guests only for dinner. It has a very comfortable spacious setting which would prove to be practical since most of the cooking part of the main course is done at the table itself by the guest. The restaurant overlooks the Indian Ocean and the vast green expanse of the Hotel premises.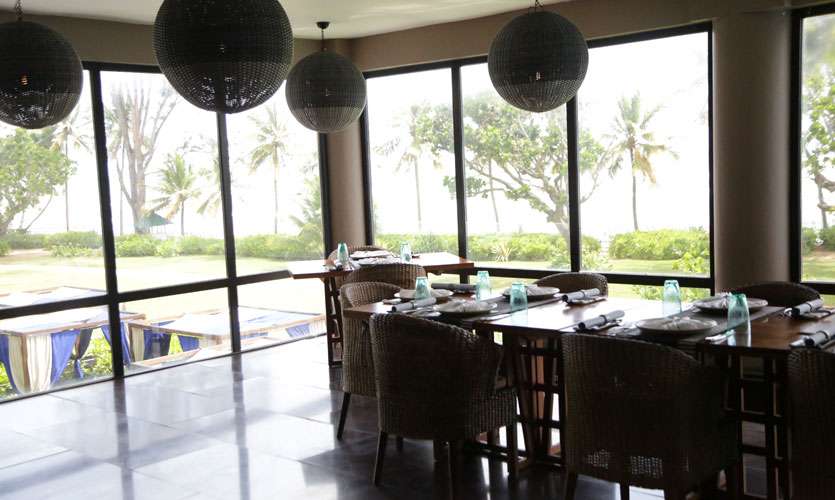 It's quiet and perfect for an intimate dinner, one meant to be enjoyed with those closest to you, or I would recommend that you take a group of individuals who'd enjoy an all round entertaining meal.
The staff are beyond helpful and very concerned for the safety of those who dine at the restaurant, and in fact, it must be mentioned that they're ever ready to assist you should you need it.
Starters
The starter which comprised of thin slices of pita bread served with Blue cheese butter and a kidney bean dip was simple, delicious and elegant.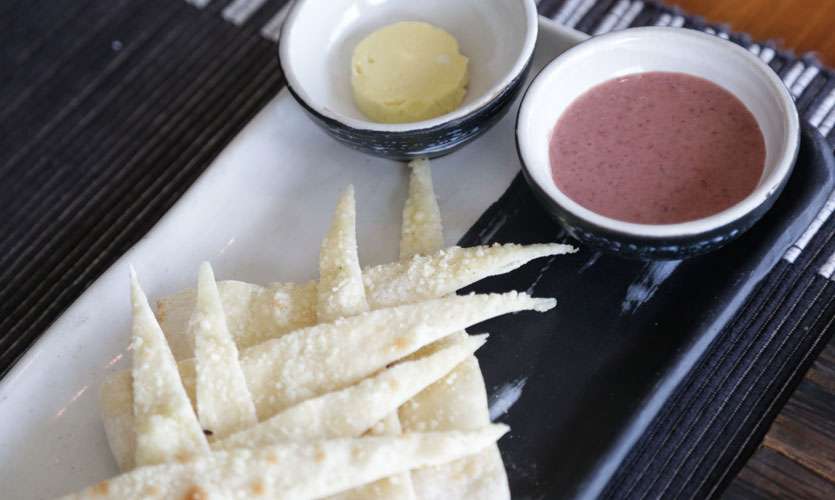 The kidney bean dip was out of this world, and I believe I liked it so much I reached over to my counterpart's dish and ate off of her share as well.
The Teardrop
This dish literally blew our minds away! It was a seafood salad encased in a thin ice sculpture shaped like a teardrop. I found it particularly hilarious when the chef came over to our table and said: "Well I hope you enjoy our teardrops". It had to be one of the best cold salads we've ever had. It came with a generous serving of shrimp, cuttlefish and sushi which was served on a leafy green bed. I would assume that the ice sculpture would have melted but it didn't it stayed together in all its glory while I carefully ate my salad. It was a rare treat and an unexpected surprise, we were thoroughly amused and satisfied.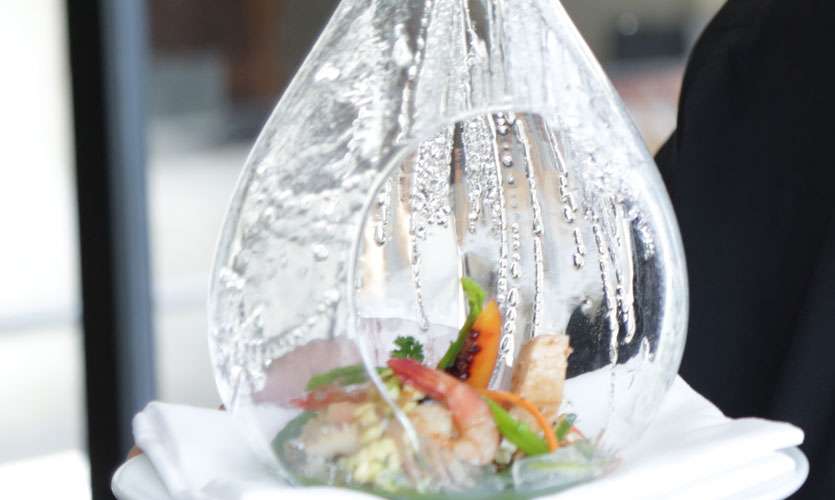 Main course
The Lava Stones
The lava stone experience took the cake, it was on fire! Well, not literally but you wouldn't want to touch the stone if you know what's good for you. Before I dive into the details of the matter I must say I'd rank Cinnamon Bey amongst the top hotels in terms of presentation. It was such a grand affair. First, the staff brought out lovely black aprons which they said were vital for our protection, because when cooking on a lava stone oil could splash on your body. Then to make us feel included and to further solidify our stances as chefs, they gave us hats, which in turn helped me cross off a box on my bucket list for as a child I'd always pester my parents for one.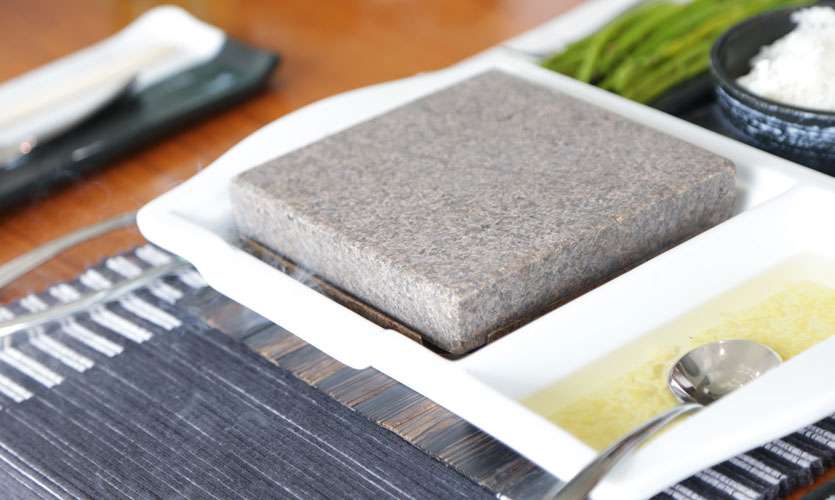 So they brought out the Lava stones on individual platters and placed them in front of us, with ample amounts of oil infused with garlic, which I loved, because I am a firm believer that a dash of garlic can make anything better.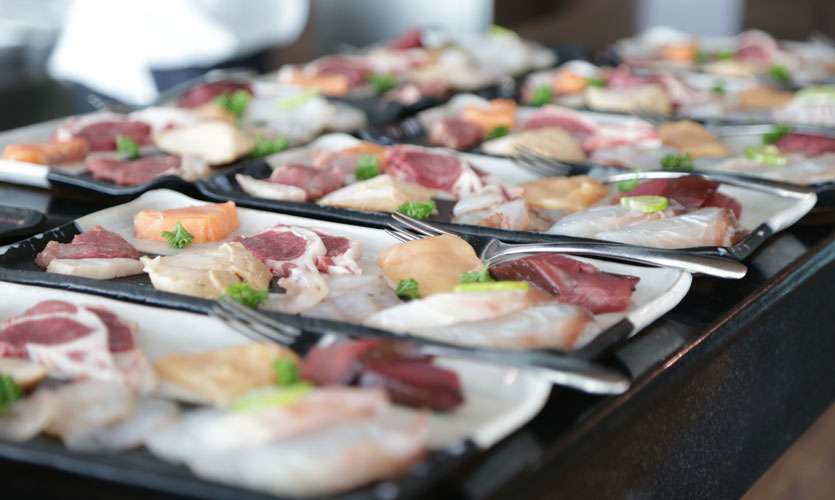 We were given an assortment of meats and fish which included tuna, beef, lamb and chicken. The chef advised us to spread oil on the surface of the scorching hot lava stone and then carefully place the meat of our choice on the stone and cook it. We were given a platter of condiments which we could use to spice up our meats while they cooked.
Once we had finished cooking our platter of meats we were served a portion of steamed rice and boiled asparagus to eat along with what we cooked up.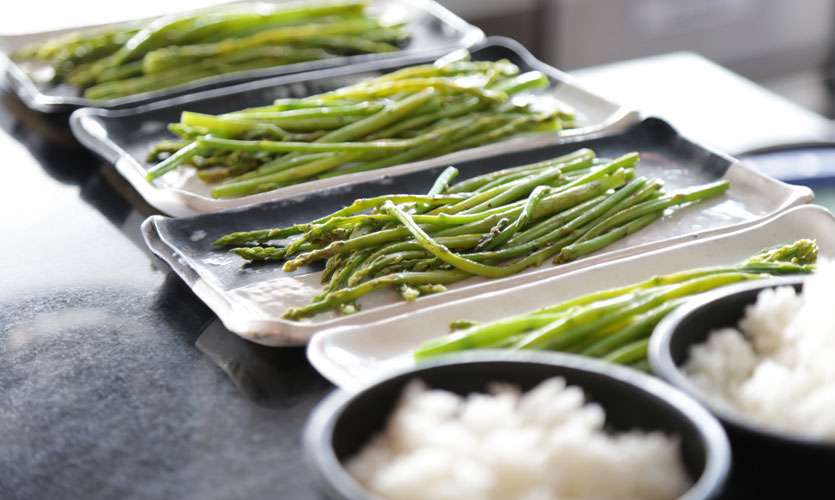 The meal was delicious, specifically because I got to cook the meat how I liked it best, and there was a certain sense of pride I felt when I finally tucked into my lunch, most probably because I had a hand in how it ended up.
Dessert
Dessert was served to us on a platter, and I'm always skeptical about dessert at hotels specifically since my experiences with buffet dessert options has been rather terrible. The dessert served at Cinnamon Bey that afternoon was a pleasant surprise. The profiterole was soft and filled with creamy chocolaty goodness, the strawberry cheesecake had the perfect base and was soft. It wasn't unbearably sweet which is something I hate when it comes to cheesecake and I enjoyed it immensely.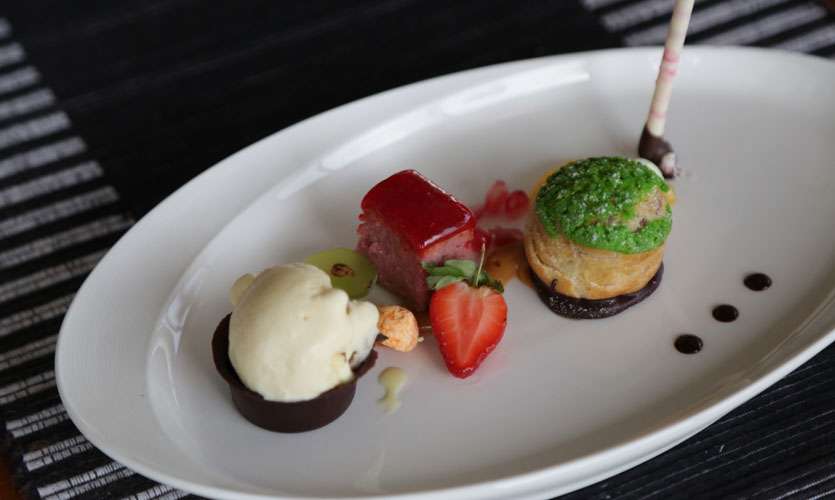 We washed all that down with a lovely spot of Ice cream and white chocolate.
Everything about the entire meal ended up being so satisfying, It didn't even leave you with an uncomfortable stuffy feeling in the end.
Would we go again?
Of course, we would! The experience was phenomenal and I for one have plans to take a number of my friends just so i could give them the all round experience for the day.
Tips by the author
Do not allow children near the lava stones. It is dangerous and not meant for children, please have the chef or an adult oversee children. Furthermore, do not forget to consider allergies before eating at the restaurant because most of their food contains traces of shellfish. It's wise to talk to the chef or manager before you embark on this gastronomic adventure.
Parking: Abundant
Toilets: Available
Service: Exemplary
Photographer : Dasun Muthugala