Revisiting a diabolical story of romance, suspense and horror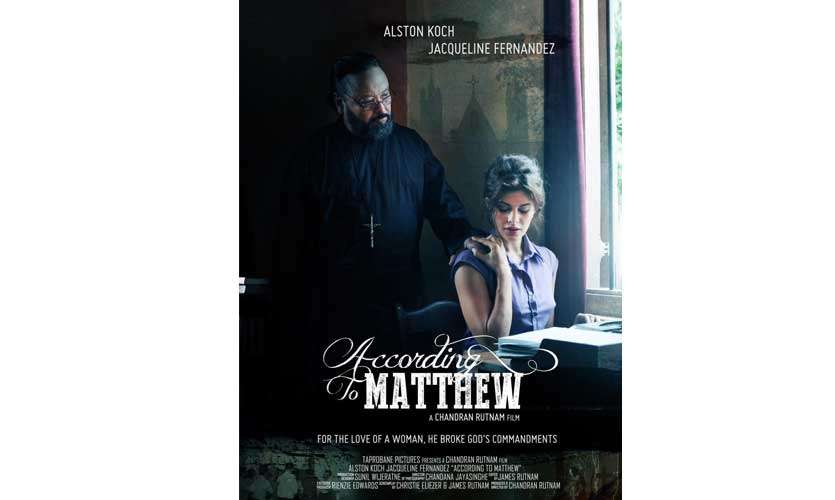 The double murders at the St. Paul's Church vicarage down Kynsey Road were the talk of the town back in the '70s. Father Matthew Peiris - the accused, was a celebrity pastor and an internationally renowned exorcist whom many people feared. Those who recall the trials to date describe Fr. Matthew's significant features - dark-skinned with a long white beard wearing round spectacles, sometimes seen talking to people outside the vicarage. The carefully planned murder of Russel Ingram, husband of Dalrene Ingram who later becomes Fr. Matthew's lover by adding anti-diabetic drugs into his meals is described as a classic case where medical evidence played a pivotal role in the outcome of the trials.
Fr. Matthew's case also goes down in history as the first murder case in which two detectives were sent to England on a homicide investigation. Dalrene's charming looks blinded Fr. Matthew in a way that he had no comeback. Already committed to Eunice Mendis and a father of four children, Fr. Matthew may have realized that he had no way out but to kill the two individuals standing in his way. His first attempt to kill Russel by giving him Euglucon – an anti-diabetic drug was successful but little did he know that medical officers at the General Hospital would find the similarities of the two incidents when his wife was also admitted after an overdose of Euglucon.
A movie worth watching
Reviving the case from the dusty court records, celebrated movie director Chandran Rutnam took on the task of bringing it to the screen. 'According to Matthew' - the result of his research and observations was released last week and is now in theatres managed by the Ceylon Theatres circuit. After careful and thorough studying, Rutnam has placed the events in such a way that the audience will definitely be glued to the screen until the end. The story reveals how Father Matthew was seduced by Daphne's attractiveness, inviting her to be his secretary to work on his manuscript 'Tolerance of the Body and Mind' which later becomes an important piece of evidence in the trial. Daphne and Randy were devotees at the Church who eventually became lodgers at the Vicarage. Daphne dedicated her time to finish Fr. Matthew's manuscript but little did she know that he had other plans. Fr. Matthew was determined to put Randy 'out of the scene' and kept giving him anti-diabetic drugs and insulin until his death. Realizing that he still had to get rid of his wife, he carefully convinces Eunice to take medication saying that she looked ill. His justification that he too was a man of desires did little to prove him innocent in the face of justice. The rest is for all suspense and horror movie fans to watch and analyse how a murder was planned in yesteryear.

Sri Lankan born singer, songwriter, film producer and actor Alston Koch who plays the role of Father Matthew has absorbed the character of a committed Pastor, reading verses off the Bible and acting calm in every instance. Dalrene Ingram's character is substituted by that of Daphne Reynolds played by former Miss Sri Lanka Jacqueline Fernandez. Those who have seen Jacqui in movies will agree that this is one of her very first serious roles in a movie as opposed to the playful characters she has been portraying in Bollywood films. However, one may also question whether Dalrene was as beautiful with radiant, glowing skin as that of Jacqueline's but she fiintoin to the role of a seductress quite naturally. The role of 60-year old Eunice Mendis is played by the young and talented stage drama actress Bimsara Premaratne, making her debut appearance in a movie. Rutnam has selected a rather amateur cast, bringing in new faces in almost every scene.
Towards the end of the premiere, the Daily Mirror Life spoke to the director, a few actors from the main cast and guests. Here's what they had to say :

"Directing a film is not difficult. I enjoyed it and it was a nice experience. But getting it released and the little hiccups and the hurdles that are thrown our way are not very pleasant. Yet, we overcame them. We made use of the court records and the fact that I knew the man. One cannot stop a filmmaker, we will do it somehow. I'm starting on a new film project in Assam next year." – Chandran Rutnam, Director – According to Matthew


"It was a challenging role because I had to be Matthew Peiris and read the Bible. It didn't take too long for me to get into the role because I knew the subject well. Part of an actor's job is to learn the subject matter, go through the lines and be the man himself. This is why I decided to do a few things such as confessing to God. He was doing everything that a normal man would do. While everybody thought he was different, I think inside him, he wasn't different; in fact, he was being a man. I'm going through some Hollywood scripts right now so let's see in future." – Alston Koch as Father Matthew Peiris


"It was challenging because I had to play the role of a 60-year old lady and it's the first time I'm performing for the big screen. But Chandran and Alston and the entire cast were very supportive. While getting into the role I tried to research about her but after the scandal, she became a very quiet person and there's very less information about her." – Bimsara Premaratne as Eunice Peiris


"This is my first movie and was an amazing experience. One of my friends said there's a movie and wanted me to have a look. When I got there Mr. Rutnam asked if I could play the role of Detective Cruse. The crew was very helpful and I didn't feel like an amateur at that time. I have been involved in a couple of Sinhalese movies and I'm getting a few gigs here and there and I love it." – Gavin Ludewyke as Detective Cruse


"It was a true story and it has a lot of history behind it. Hence it was very interesting." – Shiromal Cooray


"It's a really difficult task because you are dealing with a lot of people who are still alive today. It's quite a sensitive issue and I think Mr. Rutnam has handled it really well. As a product, it has a bit of suspense, romance and horror. Even though we knew the story, we still want to know what happened."- Ashan Dias


"A very interesting movie. It was a well-known story and was the topic of Colombo at one time. The film has been done very well and it keeps you gripped making you want to know what will happen next. Alston and Jacqueline have done a convincing portrayal. The younger generation doesn't know the story but if they watch the movie they will find out." – Menik Kurukulasuriya




"In my younger days I used to read the updates of the court case. It has come back to life and I remember a lot of things now. It's for a mature audience but Rutnam has done an excellent job of bringing it to life." – Sanjay Niles, Managing Director – Ceylon Theatres Pvt. Ltd.


"I think it's a great make of a true story. It's not easy to make true stories because there are legal issues and the challenge of making it up to the exact incident. Chandran has taken the challenge of not only battling the legal issues but creating a true story. If you divert from the elements of the true story the validity is lost but Chandran has managed to capture everything through the story. The fact that he has taken the court records and presenting it in 1 hour and 45 minutes is just great." – Chanakya Jayadeva


"It was fantastic and it was more than what we expected. We were really excited and were waiting for it to come out for a long time." – Sandy Jayamaha
Pics by Pradeep Dilrukshana